April 17th, 2012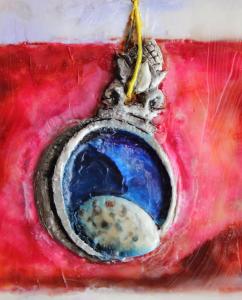 The third piece in Balancing Acts was a complete accident. I decided to use a small encausticbord that came gratis with my metallic paint set to work out the color composition for "Full of Wish". Once I completed the color scheme, however, I was unable to just leave the board blank. I came up with this pretty little antique enamel lined salt cellar with an itsy bitsy Cedar Waxwing egg resting inside it. This is a close up of the main subject. The salt cellar is less than an inch in diameter, and the acorn on top of it is only about a cm wide. As you can imagine, this amount of detail was difficult to achieve using wax!
April 17th, 2012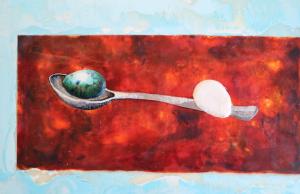 Today I finally began real work on the next piece in my Encaustic series, Balancing Acts. I was able to finish the Redwing Blackbird Egg and the head of the teaspoon that the eggs are balancing on. Next up is the Western Meadowlark egg, which you can see has been blocked in. I will also finish the handle of the spoon and hopefully have time to start on the hat pin that will be the anchor for the piece.

Again, I have worked this in relief. Really, these paintings (like most), are not fully appreciated until viewed in person. Ideally, these will be showcased in a one woman show along with an installation in the same vein.

Enjoy!
April 13th, 2012
Eggs are little packets of life and ever since I was a very small child, I was fascinated by their cool, smooth, beautiful exteriors and loved my job of gathering them from our henhouse. As I got older and spent more time wandering our ten acres in Montana, I found countless wild bird's nests both on the ground and in trees. I found hatched out blue bird eggs and wondered at the thin membranes that the little birds had punched through on their way out of the hard exterior.

We hatched chicken eggs in an old silver incubator that looked like a space ship. A couple of days before they hatched, the peeps from the little chicks inside became noticeable to the human ear. My Mother, her face lit up in amusement, holding a small aqua egg up to my ear so that I could hear the tiny sounds from within, is one of my favorite memories.

As I got older, as it is with many children, the simple joys of childhood are deposed by the more "important", more adult concerns of the world. However, my fascination with eggs never subsided.

Here now we have a rough sketch for the next piece in my Encaustic Series, "Balancing Acts", a lovely little Red Wing Blackbird's Egg on the spoon end and a speckled Western Meadowlark's Egg on the back end of the spoon. Of course, the thread that holds the spoon will be longer, and I plan on changing the way that the string is held. I am hoping to get started on this piece Monday when my children head back to school from Spring Break.

Looking forward to seeing how this piece progresses as it promises to challenge my skills with wax.
March 21st, 2012
Life likes to give us lemons, it's up to us to make them into lemonade. For my family and it seems me in particular, the biggest lemon that I keep being handed is frequent moves. We just got to El Paso (not so yay) in June of 2011. We are moving to the Seattle area (yay!) this coming June. It's the end of March. Well, the house that we are living in is slated for renovation, so the leasing company is moving us a few streets over on Tuesday.

So, instead of focusing on my encaustic series, I'm having to focus on getting this house ready to be packed up, and to once again worry myself sick over how the movers are going to treat my art and my supplies. They send in this great hoard of packers and you're hard pressed to keep up with two of them manhandling your things let alone six of them!

Now, I'm just wondering how to make the best lemonade possible out of this situation. Since these houses don't really have an extra room for me to use as my studio, I've been using the garage, which it seems is constantly being ransacked by our four kids, and my husband who likes to leave his tools hanging around. Maybe now all of the things that they like to get into can just stay in boxes and I'll have a clean studio space for the next two months? I could also choose not to put together our extra bed, and perhaps use that room to photograph my paintings. Hmmmm.......that sounds like halfway decent lemonade to me....